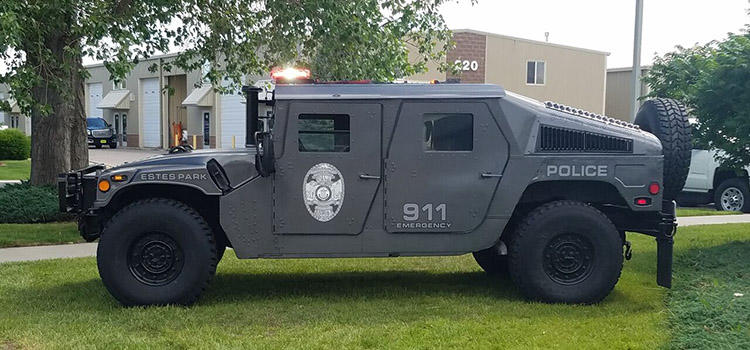 Program management websites:
#FFFFFF
1. Federal Excess Property Management Information System (FEPMIS)
This website is the online property book for all agencies enrolled in the 1033 Program. Users administer their property here.
2. Account Management & Provisioning System (AMPS)
This website provides access to the Reutilization, Transfer, Donate (RTD) website and enables users to change their passwords and unlock their accounts.
3. DLA External Business Portal (RTD)
The Defense Logistics Agency (DLA) External Business Portal Reutilization, Transfer, Donation (RTD) website allows registered users to view and requisition excess DoD property.
Requirements for future & current Colorado program participants
#FFFFFF
Submit your application or annual update
All agencies must submit application paperwork annually and whenever your chief law enforcement official changes.

Your agency must also submit a State Plan of Operation.

All letters and agreements must be signed by the current chief law enforcement official. (Sheriff, Police Chief, Chief Marshal, Director, etc.)

NOTE: All agencies will required to update their State Plan of Operation (SOP) by Jan. 1, 2023, and include the signed 2022-2023 SOP addendum below.
#FFFFFF
General 1033 Program Information

The Law Enforcement Support Office (LESO) within the Department of Defense (DoD), Defense Logistics Agency (DLA), facilitates the 1033 Program, which originated from the National Defense Authorization Act of Fiscal Year 1997.This law allows transfer of excess DoD property that might otherwise be destroyed to law enforcement agencies across the United States and its territories. Each participating state's governor is required to appoint a State Coordinator to ensure the program is used correctly by the participating law enforcement agencies. The State Coordinators are expected to maintain property accountability records and to investigate any alleged misuse of property, and in certain cases, to report violations to DLA.

In Colorado, the agency appointed by the Governor to coordinate Colorado's participation in the 1033 Program is the Colorado Department of Public Safety, Compliance & Professional Standards Office. The Colorado 1033 Program enables Colorado law enforcement agencies to participate in this program and acquire DoD excess equipment to support law enforcement activities under the Federal Guidelines 10.U.S.C. 2576a.

Instructions & Tip Sheets

Demilitarization (DEMIL) Codes

The Defense Logistics Agency (DLA) conditionally transfers excess DOD property to local law enforcement agencies. The DLA retains permanent title to all property other than property with DEMIL Code A and Q6. Property with DEMIL Code A and Q6 will be archived after one year, at which point the agency may dispose of or sell it in accordance with applicable laws.  

How to Screen for Property Using the Defense Logistics Agency (DLA) External Business Portal - Reutilization/Transfer/Donation (RTD) Site How to Physically Screen for Property at Fort Carson Disposition Services Site (DSS) ​When you receive your property, sign and retain the 1348 Receipt Form, then send a copy to cdps_1033_1122@state.co.us. You have 30 days to complete the Receipt in the Federal Excess Property Management Information System (FEPMIS).

Remember that you need to add photos of the front/side and serial number for vehicles, robots, and optics, and photos of the serial number for weapons. Photo Requirements and Examples

​Aircraft Request Process Small Arms Request Process Tactical Vehicle Request Process
View list of Colorado agencies & their equipment

To view which Colorado agencies are participating and what equipment they have received, scroll to the bottom of the DLA eReading Room to access a list of 1033 Program property issued to each state. Look for the box with the title "LESO 1033 Program."

Forms
Other Programs & Resources

Public Auction Sites

Firefighter Property Program (FFP) and Federal Excess Personal Property (FEPP)

These are the programs similar to 1033 but intended for fire departments instead of law enforcement agencies.

Night Vision Loan/Lease Program

Administered by the Navy through the Crane Naval Surface Warfare Center, the Night Vision Program enables local law enforcement agencies to lease night vision equipment for $300 per item per year. The annual fee includes necessary maintenance and replacement of malfunctioning equipment.

Computers for Learning

The CFL program helps federal agencies transfer to schools and nonprofit organizations computers and related equipment excess to their needs.